Teaching and training program

Undergraduate
Honours
Postgraduate
the teaching aims
GEMOC's teaching program aims to:
provide undergraduate and postgraduate students with a broad, integrative understanding of Earth architecture and processes, bridging the discipline boundaries of geology and geophysics
train undergraduate and postgraduate students in new conceptual approaches and the applications of advanced technology, including geochemical analysis techniques and the integrated field and laboratory use of geographic information systems (GIS)
develop international links in teaching programs (especially postgraduate) relevant to GEMOC's goals
develop formal tailored course work components at postgraduate level which also can be packaged for distance education delivery and as short courses available to the mining industry
enhance the pool of high quality geoscience graduates by restructuring academic programs to attract a new clientele
undergraduate training
this program has four short-term objectives:
to reform the undergraduate curriculum
to strengthen Geophysics training
to introduce GIS-based philosophy and practice to both fieldwork and laboratory work
to introduce a general-interest course to attract different clientele
achievements 1998 - 1999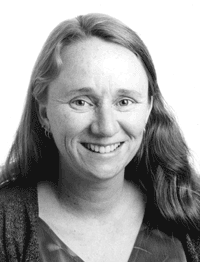 Kelsie Dadd received the Macquarie University Award for Excellence in Teaching at the September Graduation ceremony.
curriculum development

A new named degree, the Bachelor of Science in Environmental Geology, has been approved to commence in 2001.
This degree will address the need for a large number of well qualified graduates of environmental geology in the marketplace. Government regulations relating to the physical exploitation of the environment and contaminated land are increasing along with public awareness of such issues. Many of the current programs do not provide graduates with the skills sought by employers in this field. The program has been constructed with advice from the GEMOC Board and relevant Industry representatives.


Environmental geologists need a knowledge of the geologic structure of the Earth as well as Earth surface processes, the nature of the regolith, scientific methods in geochemistry and geophysics, Government environmental policy and the interaction of people and the environment. All of these fields are covered by subjects taught within the Department of Earth and Planetary Sciences or the Division of Environmental and Life Sciences. There is the possibility of combining this named degree to complete a double degree in BSc (Environmental Geology)/BSc LLB, BSc (Environmental Geology)/BEc, or undertaking postgraduate studies within the Department or the Graduate School of the Environment.


A flow chart to guide students through the Bachelor of Science in Environmental Geology is included in Appendix 6.
The theme "the interaction of people and the geologic environment" was highlighted and industry links strengthened by having a guest lecturer, Dr Bill Ryall (from Gutteridge, Haskins and Davey Pty Ltd), speak on the role of geology in contaminated land studies to the Earth Dynamics, Materials and the Environment (GEOS115) class. Based on the great success of this lecture, we hope to increase the number of guest lecturers from industry in the coming years.



Reconciling the day's mapping at the Lake Keepit field camp at the end of first year.



A new phase of curriculum development has begun within the department with preliminary discussions on the restructuring of third year units and the planned introduction of a new first year unit, "Marine Studies". These changes are in line with both the long and short term aims of the GEMOC teaching program and in particular will include the further integration of Geology and Geophysics. Discussions on these changes will continue in 2000 for implementation in 2001.
An increasing number of Earth and Planetary Sciences (EPS) units are coming on-line and including the use of computer packages in teaching to assist student learning. This trend will continue in 2000, making EPS units more accessible for our client base.
Minerals, Energy and the Environment (GEOS251) was redesigned by Simon Jackson and Paul Morgan, and offered as an internal unit in 1999 as well in the current distance education mode; the first time in 5 years. The unit now has its own web site. GEOS251 continues to be popular with students enrolled in Economics and Law and is the second general interest unit to be introduced in GEMOC.
Earth's Evolving Environment (GEOS272) has run successfully since its introduction in 1996 and has continued to attract a clientele from outside the geoscience pool.
Volcanic Geology Fieldwork (GEOS373), a popular unit which examines modern magmatic environments of the Pacific Rim as keys to interpreting the ancient, was offered as an ongoing new independent unit.
John Ridley redesigned the third-year Ore Deposits unit (GEOS 304)
Simon Jackson and John Ridley taught in the units Aqueous Geochemistry (GEOS333) and Exploration and Environmental Geochemistry (GEOS377) in a cooperative arrangement with the Department of Chemistry.
Our new named degree, the Bachelor of Science in Geophysics, and the Bachelor of Technology in Geoscience, continue to attract outstanding students with higher than average entry requirements
The Honours and Postgraduate unit Geochemical Applications and Techniques (GEOS 437) continues to be popular and also serves as a SUCOGG Honours unit.
The introduction of GIS into undergraduate teaching, an original teaching goal for GEMOC, has now become routine procedure, commencing with the use of GPS units and portable computers with MapInfo software in the first field camp.
The Micro-GIS concept (see Technology Development) is incorporated into the Geochemistry strand of Bachelor of Technology at third year and in relevant Honours courses and projects.
Upgrading of teaching microscopes at Macquarie has been funded in 1999 and for 2000 with a grant of $203,420.
In the field: GEOS224, Introduction to Field Geology.

GEMOC honours
GEMOC OFFERS SCHOLARSHIPS for students with excellent undergraduate records who are carrying out GEMOC-related projects.
The following projects were completed in 1999 with GEMOC Honours Scholarships or assistance. Six candidates at Macquarie University were awarded first class Honours.
Macquarie
James Austin: The structure of the Merimbula Group (part-time continued from 1998)
Jason Berton: A radiometric, stratigraphic and structural analysis of the Cocoparra Group, Rankin Springs , central-western NSW
Andrew Botfield: Cu and Zn isotope fractionation in hydrothermal systems
John Bus: High-resolution seismics on various subsurface targets in NSW
Michael Cook: Arsenic geochemistry in igneous rocks of the New England Fold Belt
Tara Deen: 3-D seismic tomography
Troy Herbert: Gravity and magnetic modeling of Redeemer deposit, WA
Timothy Moulds: Geology, geochemistry and tectonic setting of the Frampton Volcanics, southeastern NSW
Antony Sprigg: The nature and timing of mafic-felsic dykes, Bermagui.
Dave Tabrett: Geological evolution of Lord Howe Island
ANU
Robert Lacey: Integrating the geology and geophysics of the Yeoval batholith, NSW.
Cameron Mitchell: The Challenger Gold Mine, Adelong, New South Wales.
Cameron O'Neill: The Luxmore mafic igneous complex, New Zealand.
Georgina Burch: The geology and mineralisation at Mount Mackenzie, Queensland

The following Honours projects are relevant to GEMOC in 2000

Macquarie
Peter Glenn Andrews: Breadalbane iron deposits and their geological environment
Brendan Cahill: The evolution of the Sentinel Range Igneous Complex and its relationship to the Red Hill Skarns
Amanda Hensen: Project on volcanic geology
Deian Humphreys: Ore and alteration zonation at the Browns cobalt deposit, Rum Jungle, NT
Matilda Thomas: The remote sensing of the Mount Painter hydrothermal system
Maureen McMahon: Multiple isotope signatures of mineralised granites
ANU
Alex Johnston: Trace elements in molybdenite - implications for depositional environments
Marita Sloan: Low temperature melts and their relationship to mineralisation at Broken Hill, NSW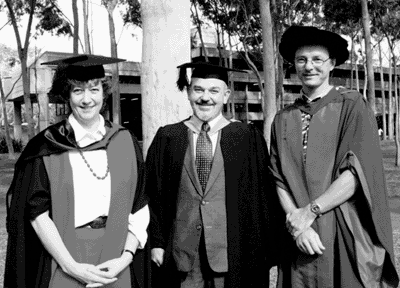 GEMOC scholarship holder, Mick Burke graduated with first class Honours in May 1999. Mick's project integrated mantle xenolith and geophysical data to characterise the crust-mantle boundary beneath the Southern Highlands, New South Wales. He was supervised by Sue O'Reilly and Karsten Gohl.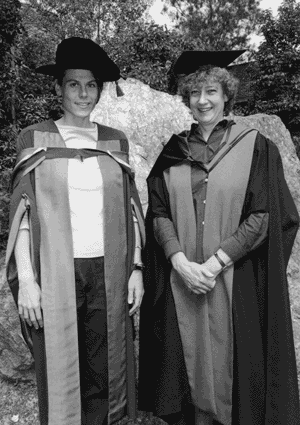 A first for GEMOC: Rondi Davies (left) was the first PhD to graduate (September 1999) in GEMOC at Macquarie.
GEMOC postgraduate students had a high profile at national and international conferences through 1999 including the Goldschmidt Conference in Boston and the Orogenic Lherzolites Conference in Pavia. As part of GEMOC's international exchange program with the University of Jean Monnet, St Etienne, Will Powell from Macquarie participated in the 1999 Fieldwork Program in the Kerguelen Islands, Bertrand Moine completed his PhD (and will submit early 2000) and Guillaume Delpech has been awarded an International Postgraduate Award by Macquarie to undertake isotopic studies on the Kerguelen mantle.

| | |
| --- | --- |
| | Mark Pirlo received a Queen's Trust for Young Australians Achievement Award to support his postgraduate research. |
MACQUARIE:
completed
Rondi Davies (PhD): East Australian Diamonds: Characterisation and origin; Sponsored by Rio Tinto, Kennecott Canada (completed 1999) (see Research Highlights)
Joanne McCarron (MSc): Mantle xenoliths from Queensland and South Australia (completed 1997)

Submitted January 1999 to March 2000
Elena Belousova (PhD): Zircon and apatite geochemistry: applications to petrology and mineral exploration; APA and sponsorship by Rio Tinto (commenced 1996)
Oliver Gaul (PhD): Composition of the lithospheric mantle beneath Australia; APAI collaborative with Stockdale Prospecting, CSIRO EM (commenced 1995)
Bertrand Moine (PhD): The role of fluids in the genesis, segregation and crystallisation of intraplate oceanic mantle magmas: implications for crustal accretion; Co-tutelle with University of Jean Monnet
Xu Xisheng (PhD): The lithospheric mantle beneath eastern China; Formal exchange PhD, Nanjing and Macquarie (commenced 1996)
Shixin Yao (PhD): Chromite as a petrogenetic indicator in ultramafic rocks; Collaborative with Rio Tinto (commenced 1996)

current
Olivier Alard (PhD): Trace element geochemistry and mantle domains, emphasis on PGE and Re/Os; OPRA with MUIPRA stipend (commenced 1997)
Kari Anderson (PhD): Defining the APWP for early to mid Palaeozoic eastern Gondwanaland: paleomagnetic pole information from the northern Tasman Orogen; MUPRA & MUIPRA (com. 1999)
Eloise Beyer (PhD): Contrasting characteristics of Proterozoic and Phanerozoic mantle types;
Field assistance from Ashton Mining (commenced 1997)
Jyrki Pienmunne (PhD): A geochemical and isotopic study of Co-Ag-Ni-As mineralisation, Cobalt, Ontario (part-time commenced 1998)
Mark Pirlo (PhD): Australian groundwater geochemistry; applications to heat flow and exploration; APA, (commenced 1998)
Will Powell (PhD): Nature of the lithospheric mantle in the New England Region, NSW; APA (commenced 1997)
Esmé van Achterbergh (PhD): Trace-element fingerprints of metasomatic processes in lithospheric mantle (part-time, commenced 1999)

commencing 2000
Sonja Aulbach (PhD): Depletion and metasomatic processes in cratonic mantle; OPRA with MUIPRA stipend
Andrew Botfield (PhD): Transitional metal isotope systematics in the HYC Ag-Pb-Zn deposit (part-time)
Michael Cook (PhD): Arsenic in East Australian Granites; APA
Guillaume Delpech (PhD): Isotopic characteristics of lithosphere processes beneath Kerguelen; Co-tutelle with University of Jean Monnet, OPRA with GEMOC stipend

ANU:
completed
Liankun Sha (PhD): Accessory minerals (especially phosphates) in granites of the Lachlan Fold Belt; theoretical modeling of ordering-disordering in silicate minerals
C.J. Bryant (PhD): Geochemistry of volcanic ashes from the Izu-Bonin-Mariana arc systems, and a geochemical traverse of the Kurile-Hokkaido arc

current
Helen Degeling (PhD): A study of Zr/Th/U equilibria and the growth of zircon (commenced 1998)
Tony Kemp (PhD): In situ partial melting and petrogenesis of igneous rocks of the Glenelg River Complex, western Victoria: a field, isotopic and geochemical investigation (commenced 1996)
Cromwell Qpoto (PhD): Base and noble metals trapped in phenocryst-hosted glass inclusions of the various lava suites of Bougainville (commenced 1998)
Andy Tompkin (PhD): Gold mineralisation in the Gawler Craton, South Australia (commenced 1998)
X. Teng (MSc): Petrology of the trans-Tanakura Tectonic Line (a lithosphere-penetrating fault in Honshu) island arc transect (ongoing from 1996)
Ulrike Troitzch (PhD): Experimental investigation of titanite solid solution Ca(Ti,Al)(O,F)SiO4 in the assemblage titanite-anorthite-fluorite (commenced 1996)

commencing 2000
Carl Spandler: Subduction zone fluid loss - an experimental approach
Patricia Wallace: Petrological evolution of Rabaul
Anthony Budd: Petrology and geochemistry of the mineral deposits of the Gawler Craton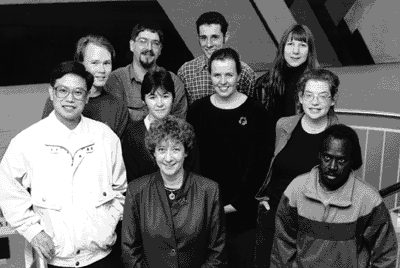 GEMOC Postgraduate students and Sue O'Reilly at a combined Macquarie/ANU Meeting in 1999. Left to right: Xisheng Xu, Will Powell, Olivier Alard, Elena Belousova, Sue O'Reilly, Mark C. Pirlo, Esmé van Achterbergh, Eloise Beyer, Kari Anderson and Cromwell Qpoto.